What is EFT tapping?
Emotional Freedom Technique (EFT), also known as 'tapping' is a simple and effective tool for clearing negative emotions, limiting beliefs, fears, phobias and trauma. As well as being used to clear negative issues and even dis-ease, it can also be used to promote positivity and enhance general health and well being. While it may sound too good to be true, believe me, it IS all it's cracked up to be.
How does it work?
It's really very simple. In a nutshell EFT involves tapping on particular acupressure points whilst focusing on the issue at hand.
Styles of EFT Tapping.
I have trained in two styles of EFT tapping.
Classic EFT.
This style of EFT focuses mainly on mind and behaviour and is known as energy psychology.
In the following video and chart I show the location of the tapping points for Classic EFT.
To watch the video, click here or on the picture below.
Video demonstration of the EFT tapping points.

Chart outlining the Classic EFT tapping points.
To download this chart, right click and 'save image as'.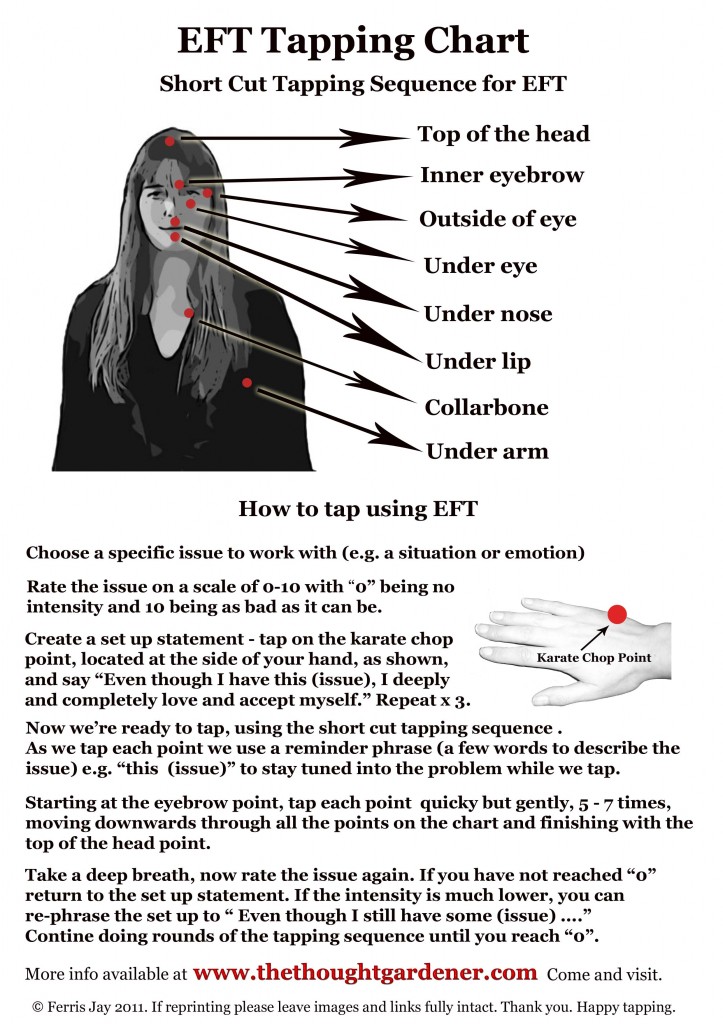 Energy EFT.
This style of EFT focuses on the energy body and emotions and includes a form of tapping called Positive EFT, where we focus on raising our energy into positive states. Energy EFT is also effective at helping us release trauma, stuck energy and belief patterns.
Would you like to tap along with me?
For a taster of EFT tapping, you can sign up for my free video series demonstrating Positive EFT.
You can also watch some of my tapping videos on my YouTube channel.
What can you expect from EFT tapping?
Results can be very quick, with changes often being seen within minutes. EFT can be used very effectively as a self help technique and I highly recommend using it that way. Please do remember that it is a powerful tool. Tap responsibly and be aware that, occasionally, tapping can bring up unexpected or deep emotions. These can be tapped through so don't panic but be sensible.
Do consider that your BIG issues may be best taken to a professional EFT practitioner. I have been an AAMET certified Level 2 practitioner since 2010 (and a certified Guild of Energists EFT Master Practitioner, and now trainer, since 2016) and I can help you move safely through the issues that you don't want to handle by yourself or help you when you are stuck. I use my skills and experience to make the journey easier for you.
To see how I can help you, using EFT and other techniques, check out my latest offerings, here.
For introduction and practitioner level trainings in EFT (in Europe and online) please contact me for more information. 
I am happy to arrange group trainings, both in person in Ireland / UK and live via Zoom vide conferencing.
I am very much in awe of EFT and the benefit that using it brings. I use it daily in my own life as well as professionally with clients. I truly believe that EFT has the potential to help us lead happier and more joyful lives and deal more effectively with whatever life brings.
I am also a trained practitioner in an exciting technique based on EFT called Matrix Reimprinting.